Fairs and festivals add much-needed zing to our lives and give us an opportunity to forget all our tensions and make merry. They are the very essence of our vibrant culture. India being a melting pot of several religions has no dearth of festivals to celebrate. Here is a rundown on the festivals which define the 29 states of India
博览会和节日为我们的生活增添了许多必要的活力,并给我们一个机会来忘记我们所有的烦恼,去享受欢乐。他们是我们充满活力的文化的精髓。印度是几个宗教的熔炉,不乏庆祝的节日。这里是对印度29个州的节日的简要介绍。
Andhra Pradesh – Brahmotsavam
安得拉邦 – Brahmotsavam
The most important and auspicious annual fête celebrated at Sri Venkateswara Temple in Tirupati in Andhra Pradesh. Sri Venkateswara Swami Vari Brahmotsavam is conducted for nine days during the months of September – October.
这是在安得拉邦蒂鲁帕蒂的Sri Venkateswara寺庆祝最重要和最吉祥的年度盛宴。Sri Venkateswara Swami Vari Brahmotsavam在9月至10月期间进行为期9天的庆祝。 The Utsava-murti (processional deity) of the Lord Venkateswara, along with his consorts Sridevi and Bhudevi, will be taken on a procession on different Vahanams on the streets surrounding the temple.
主Venkateswara的Utsava-murti(游行神祗)以及他的后妃希里黛玉和大地女神将在寺庙周围的街道上被带到瓦纳姆斯的不同游行队伍中。
This attracts pilgrims and tourists from all parts of India and abroad. Popular legend says that Brahma, the creator God worshiped Venkateswara on the banks of the holy Swami Pushkarini in Tirupati as a way to give thanks for the Lord's protection of mankind.
这吸引了来自印度各地和国外的朝圣者以及游客。有一个广为流传的传说,创造者上帝梵天崇拜蒂鲁帕蒂神圣斯瓦米普斯卡里尼河岸上的文凯特瓦拉,以此感谢主对人类的保护。
Arunachal Pradesh – Losar Festival
阿鲁纳恰尔邦 – 洛萨尔节
The Tibetan New year is also known as Losar and is mainly celebrated for 3 days in late January or February. Marked with ancient ceremonies that represent the struggle between good and evil Lossar has people chanting and passing fire torches through the crowds.
西藏新年也被称为洛萨尔,标志着代表善恶之间斗争的古老仪式。主要在1月底或2月份庆祝3天,庆祝洛萨尔的人们在人群中诵经并传递火炬。 Events like the dance of the deer and the amusing battles between the King and his various ministers provide the cheerful side of festivities. Losar Festival is characterized especially by dancing, music, and a general spirit of merrymaking.
像鹿之舞蹈以及国王与他的各位部长之间的有趣争斗等为洛萨尔提供了欢乐的庆祝活动。洛萨尔的特点是舞蹈,音乐和普遍的欢乐精神。
Assam – Bohag Bihu
阿萨姆 – Bohag Bihu
It's the time to greet each other a Happy New Year! The spring festival of Bohaag Bihu or Rongali Bihu ushers in the New Year in the State of Assam, which marks the onset of a new agricultural cycle. Many fairs are organized where people revel in festivities and visit each other's houses, exchange gifts.
是互相问候新年快乐的时候了!Bohaag Bihu或Rongali Bihu的春节迎来了阿萨姆邦新的一年,标志着新农业循环的开始。人们组织许多展会来庆祝这个节日,互相到家里拜访彼此,交换礼物。
Young girls in traditional attire sing "Bihugeets" and dance the traditional "MukoliBihu". The celebrations go on for days together, and it's also a good time for young people to find a companion of their own choice!
身穿传统服饰的年轻女孩唱"Bihugeets",跳传统舞"MukoliBihu"。庆祝活动持续数日,现在也是年轻人找到自己选择的伴侣的好时机!
Bihar – Chhath Puja
比哈尔邦 – Chhath Puja
Chhath Puja also called Dala Puja devoted to worshiping the sun is traditionally celebrated by the people of Bihar. Chhath falls in the months of October or November.
Chhath Puja也称Dala Puja致力于崇拜太阳,传统上是由比哈尔人民庆祝的。 Chhath在十月或十一月。
Chhath assumes a joyous and colorful form as people dress up in their best clothes and gather by rivers and other water bodies to celebrate. Lamps are lit and devotional folk songs sung in honor of 'Chhat Maiya' or Ganga. After sunset, earthen lamps or 'diyas' are lit in the courtyards of houses.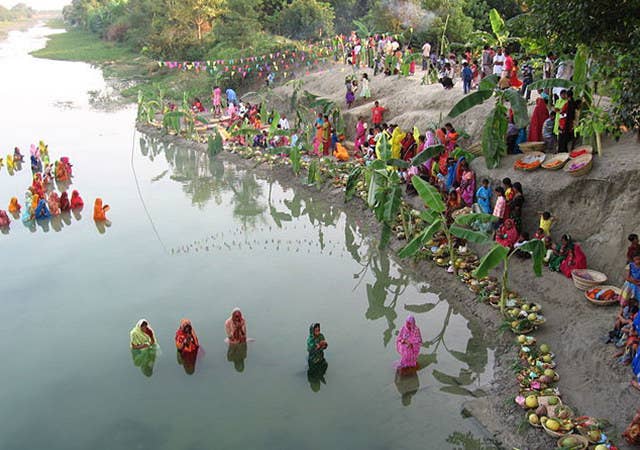 Chhath呈现出的是一种欢乐和丰富多彩的形式,人们穿上他们最好的衣服,聚集在河流或其他水体周围来庆祝。点燃的灯饰以及唱出的灵魂民歌是为了纪念'Chhat Maiya'或甘加。日落后,人们在房屋庭院里点燃土制灯或'diyas'。
Chattisgarh – Bastar Dussehra
恰蒂斯加尔邦 – Bastar Dussehra
Bastar Dussehra the longest Dussehra celebrations in the world is celebrated in Bastar and spans over 75 days starting around August and ending in October. Diverse tribes participate in traditional customs.
Bastar Dussehra-世界上最长的Dussehra庆祝活动在Bastar举行,从八月开始到十月结束,历时75天。不同的部落都会参与庆祝的传统习俗。
Bastar Dussehra begins with several customs like 'Pata jatra', or worship of wood followed by 'Deri Gadhai'- Posting of the pillars, Kachan Gaadi- Throne for goddess Kachan Devi, Kalash Sthapana- Installation of urns, Jogi Bithai- Jogi's penance, Rath Parikrama- The chariot circuit, Nisha Jatra- The nocturnal festival, Jogi Uthai- Raising of the jogi, Maoli Parghav- Reception of Devi Maoli, Bheetar Raini- The inner circuit, Baahar Raini- The outer circuit, Kachan Jatra- Thanksgiving ceremony, Muria Durbar- The tribal chieftains' conference and finally on the last day, Ohadi- A farewell to deities.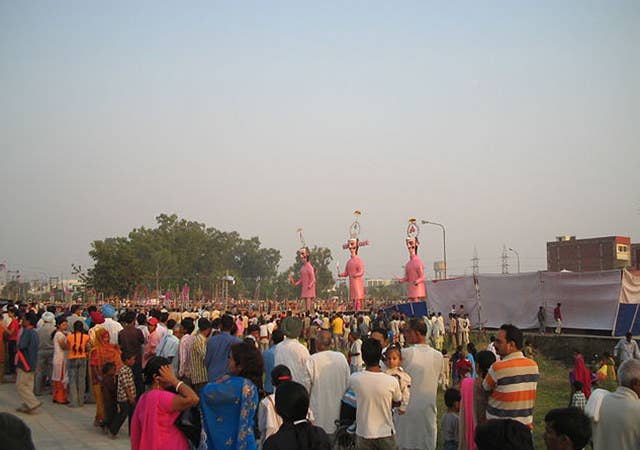 Bastar Dussehra以"Pata jatra"之类的习俗开始,或者崇拜木头,接着是"Deri Gadhai" – 支柱的发布,Kachan Gavii-王座的女神Kachan Devi,Kalash Sthapana-缸的安装,Jogi Bithai- Jogi的忏悔, Rath Parikrama-战车巡回赛Nisha Jatra-夜间节日Jogi Uthai-jogi的上升,Maoli Parghav- Devi Maoli的接待Blesar Raini-内部巡回,Baahar Raini-外部巡回,Kachan Jatra-感恩节仪式, 穆里亚·杜巴 – 部落酋长会议,最后一天,奥哈迪 – 神的告别。
Goa – Carnival
果阿 – 嘉年华
The exciting and fun-filled three-day non-stop extravaganza of fun, frolic, song, music, and dance that is uniquely Goan! Celebrated since the 18thcentury, it was meant to be a feasting-drinking-merrymaking orgy just before the 40 days of Lent; a time of abstinence and spirituality.
振奋人心,充满乐趣的为期三天的无尽乐趣,嬉戏,歌曲,音乐和舞蹈,就是独一无二果阿嘉年华! 自十八世纪以来,它就是在四十天斋戒期之前举行的盛宴狂欢; 一个禁欲和灵性的时刻。
In the Carnival huge parades through the cities are organized with bands, floats and dances and balls in the evenings. The final day concludes with the famous Red-and-Black dance held by the Clube Nacional in Panjim.
在狂欢节中,由乐队,花车,舞蹈和舞会组成的大型游行在晚上在城市中穿梭。 最后一天以Panjim的Clube Nacional举办的着名的红黑舞蹈结束
The carnival is presided over by King Momo, who on the opening day orders his subjects to party. The festival attracts thousands of tourists.
嘉年华由莫莫国王主持,他在开幕日宣布聚会的主题。这个节日可以吸引数千名游客。
Gujarat – Janmashtami, Diwali
古吉拉特邦 – Janmashtami,排灯节
The birth anniversary of Lord Krishna is celebrated with great fervor all over India, especially at Gujarat. Temples and homes are beautifully decorated and lit. People fast all day and eat only after the midnight birth ceremony.
克里希纳勋爵的诞辰纪念日在整个印度尤其是在古吉拉特邦都热烈庆祝。 寺庙和家园装饰精美,灯火辉煌。人们禁食一整天,只有在午夜诞生仪式后才吃。
Mathura has many temples dedicated to Krishna where night long prayers are offered and religious hymns are sung. Often, small children dress up like Lord Krishna on this day. In the temples, images and picturization of Krishna's life story are depicted.
马图拉有许多寺庙专门供奉克里希纳,长夜祈祷和唱宗教赞美诗。通常,小孩子在这天穿上像克里希纳勋爵的衣服。在寺庙中,有描绘克里希纳生活故事的图像。
The festival of lights Diwali is also celebrated with much enthusiasm in Gujarat. Lamps are lit in all houses and sweets are distributed by people. Festival marks the beginning of the New Year.
在古吉拉特邦,排灯节也被民众热烈庆祝。所有房屋的灯都点亮,人们分发甜食。排灯节标志着新年的开始。
Haryana – Baisakhi
哈里亚纳邦 – Baisakhi
Festival of Baisakhi marks the time for the harvest of Rabi crops and farmers celebrate it with lots of joy and zeal in Punjab and Haryana. The day of Baisakhi dawns in colors and vibrancy as cries of "Jatta aayi Baisakhi" reverberate in the skies as gaily-dressed men and women move towards the fields to celebrate the occasion.
Baisakhi节日标志着Rabi庄稼的收获时节,居住在旁遮普邦和哈里亚纳邦的农民们以极大的欢乐和热情庆祝这个节日。Baisakhi在色彩和活力的黎明中随着"Jatta aayi Baisakhi"的叫喊声在天空中回荡,穿着华丽的男人和女人走向田野庆祝这一场合。
The traditional folk dances Bhangra and Gidda are performed by men and women to the beat of Dhol. Colorful Baisakhi Fairs are also organized to celebrate the day. Wrestling bouts, singing, and acrobatics are held along with music performances.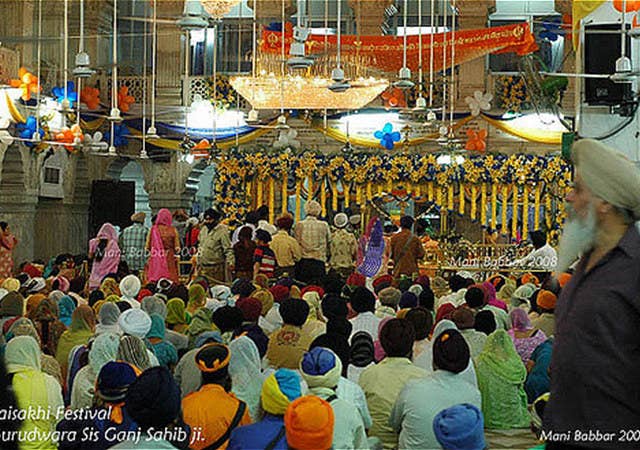 随着Dhol的节奏,男人和女人们表演传统的民间舞蹈Bhangra和Gidda。人们也组织多彩的Baisakhi博览会来庆祝这一天。同时还会有摔跤比赛,歌唱和杂技与音乐表演。
Himachal Pradesh – Mahashivaratri
喜马偕尔邦 – Mahashivaratri
Himachal Pradesh is said to host the biggest Shivaratri celebration in the country. A week-long International Mandi Shivratri Fair is held near the Temple of Bhoothnath (Lord Shiva) every year and it attracts a lot of tourists from all over the country and even abroad.
据说喜马偕尔邦举办该国最大的Shivaratri庆典。 为期一周的国际Mandi Shivratri博览会每年在Bhoothnath寺(Shiva阁下)附近举行,吸引了来自全国各地乃至国外的许多游客。
Every year a Shobha Yatra is conducted which witnesses unmatched fervor and utmost participation. The entire night during the Shivratri celebration reverberates with exalted spiritual energy. A combination of five pure ingredients comprising milk, butter, curd, honey, and sugar is offered to Lord Shiva.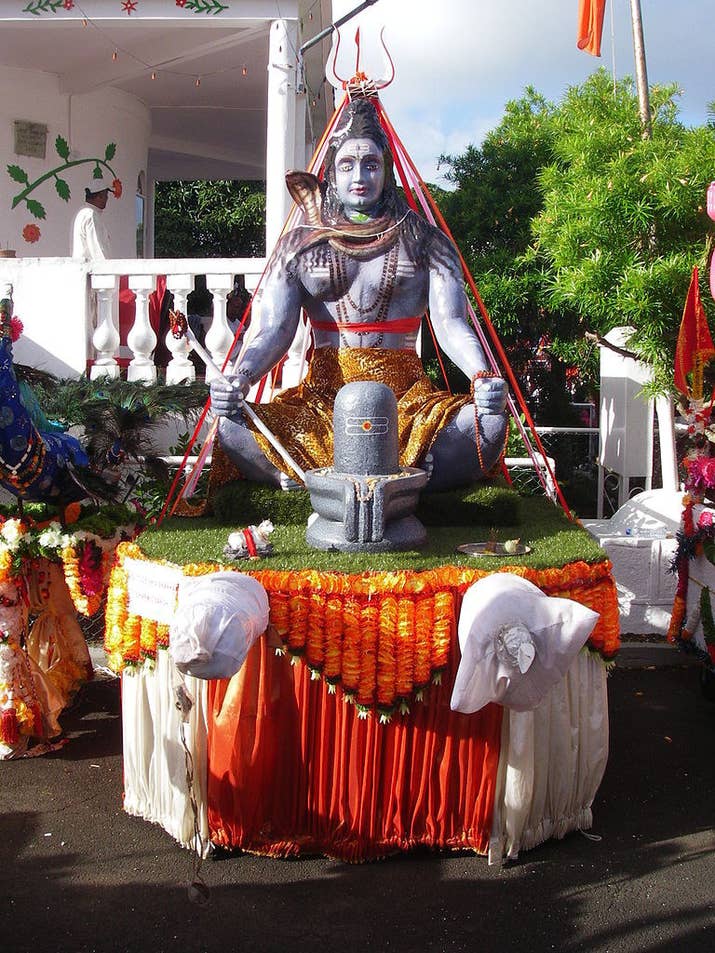 每年都会举办Shobha朝圣期,见证无与伦比的热情和最大的参与。在Shivratri整个晚上的庆典上,回荡着崇高的精神能量。给湿婆神供奉包含五种纯洁成分的组合,分别为牛奶,黄油,豆腐,蜂蜜和糖。
Jammu and Kashmir – Eid-ul-Fitr and Eid-ul-Azha
查谟和克什米尔 – 开斋节和宰牲节
If you have to experience the real fun and celebrations of Id, you have to be in Kashmir! Eid-ul-Fitr marks the end of the fasting month of Ramadan. On this day, Muslims wear new clothes and attend many grand feasts. Eid-ul-Azha is an equally important festival, which is more prominent for the Qurbani (sacrifice). People sacrifice goats, sheep, and some even camels.
如果你必须体验开斋节的真正乐趣和庆祝,你必须在克什米尔! 开斋节标志着斋月的结束。在这一天,穆斯林穿着新衣服,参加许多盛大的盛宴。对于库尔巴尼(牺牲)而言更为主要的宰牲节也是同样重要的节日。人们牺牲山羊,绵羊甚至骆驼。
On this day, Muslims show their real joy for the health, strength and the opportunities of life, which Allah has given to them to fulfill their obligation of fasting and other good deeds during the blessed month of Ramadan.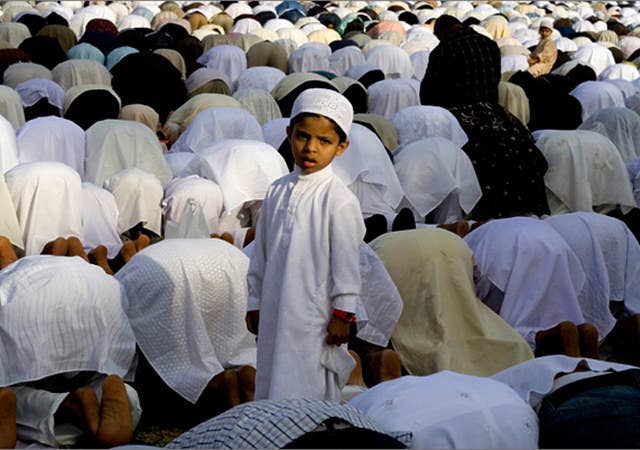 在这一天,穆斯林显示他们发自内心的快乐,因为安拉给予他们的健康,力量和生命机会,以履行他们在斋月期间斋戒和其他善行的义务
Jharkhand – Holi
恰尔肯德邦 – 胡里节
Holi is celebrated in the months of February/March with great charm and vigor The spring festival of Holi is one of the most important festivals of Jharkhand. The lighting of bonfire also forms a special feature of the Holi celebrations in Dhanbad.
在二月/三月的时候,人们以极大的魅力和活力庆祝胡里节。胡里节的春节是恰尔肯德邦最重要的节日之一。熊熊燃烧的篝火是丹巴德胡里节庆典的特色。
Fun and frolic are also redefined in various forms in the festive celebrations here. People greet each other with colors and thus enhance the feeling of harmony due to which happiness prevails. The tradition of playing Holi with mud is also extremely delightful.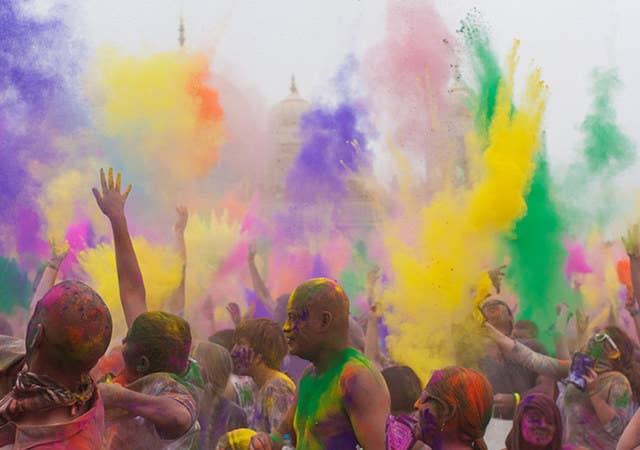 在这里的节日庆典中,各种形式的乐趣和嬉戏也被重新定义。人们用颜色互相问候,从而增强和谐的感觉,因而幸福美满。 打Holi泥的传统也非常有趣。
Karnataka – Ugadi
卡纳塔克邦 – 乌加迪
People from all over Karnataka celebrate Ugadi in the second half of March or in early April with much enthusiasm and gaiety. Ugadi is considered as an auspicious time for commencing new ventures.
来自卡纳塔克邦各地的人们在3月下半月或4月初以热情和欢乐的姿态庆祝Ugadi。 Ugadi被认为是开创新企业的好时机。
The popular legend is that the Lord Brahma started the creation of the vast universe on the auspicious day of Ugadi and it also marks the beginning of the new Hindu lunar calendar. People decorate their homes and puja rooms with flowers and mango leaves. Special dishes are prepared and enjoyed by the people to mark the festival. 流行的传说是布拉马爵士在Ugadi的吉日开始创造广阔的宇宙,这也标志着新的印度教农历的开始。人们用鲜花和芒果叶装饰他们的家和puja房间,同时也准备特别菜肴来享用,以纪念这个节日。
Kerala – Onam
喀拉拉邦 – Onam
Onam is one of the popular festivals of Kerala is celebrated with joy and enthusiasm by people of all communities. According to a popular legend, the festival is celebrated to welcome King Mahabali, whose spirit is said to visit Kerala at the time of Onam. Intricately designed flower mats called, Pookalams are made in the front courtyard of the house to welcome King Mahabali.
Onam是喀拉拉邦热门节日之一,受到各个群体人们的欢迎和热情庆祝。 根据一个流行的传说,这个节日是为了欢迎马哈巴利国王,据说他的灵魂在Onam时期访问了喀拉拉邦。Pookalams是精心设计的花垫,被摆放在房子的前院,以欢迎马哈巴利国王。
Onam is celebrated in Chingam, (August-September) and lasts for ten days. The tenth day, Thiru Onam is marked by elaborate feasts, folk songs, elegant dances, energetic games, elephants, boats and flowers. Vallamkali, the enchanting Snake Boat Race, Folk performances like Kummatti kali and Pulikali add to the zest of celebrations.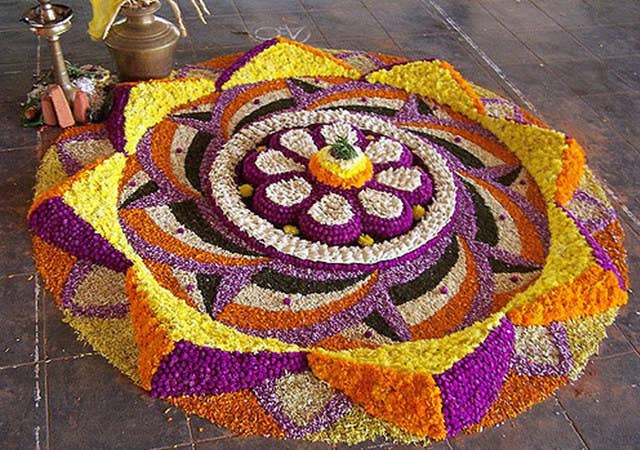 Onam在Chingam(8月至9月)庆祝并持续十天。第十天被称为Thiruonam,以精心制作的盛宴,民歌,优雅的舞蹈,精力充沛的游戏,大象,船只和鲜花为特色。 Vallamkali-有趣蛇船竞赛,Kummatti kali和Pulikali等民间表演增添了庆祝活动的热情。
Madhya Pradesh – Diwali
中央邦 – 排灯节
Madhya Pradesh celebrates Diwali, the festival of lights with much splendor. Decorations and lighting are done throughout houses & markets. Prior to the Diwali night, called the Dhan-teras all the shops remain open the whole night. Sweets are prepared in every household and exchanged.
中央邦庆祝排灯节–辉煌的灯光节。在所有的房屋和市场都有装饰和照明。 在排灯节之夜之前,称为Dhan-teras的所有商店都保持开放整夜。每个家庭都准备甜食并进行交换。
On Diwali day, houses all over Madhya Pradesh glow with a twinkle of innumerable diyas, candles, and electric lights. The night is illuminated with the flaming lights of fireworks. Diwali Festival marks the beginning of the New Year. The Baiga and Gond tribes performed their traditional dances to celebrate the Diwali Festival.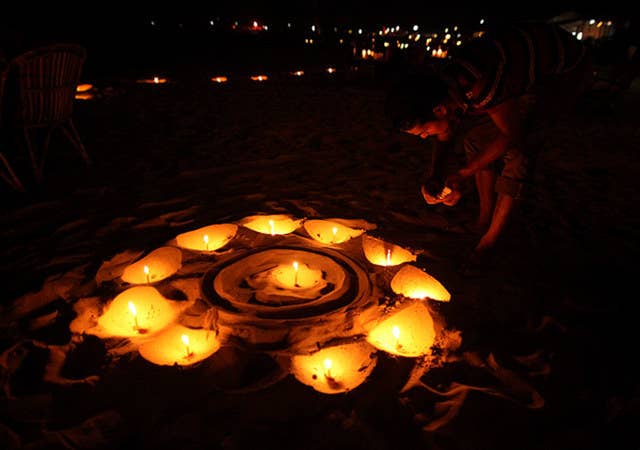 在排灯节那天,遍布中央邦的房屋闪烁着无数的diyas,蜡烛和电灯。 夜晚被燃烧的焰火照耀着。排灯节是新年的开始。Baiga和Gond部落表演传统舞蹈来庆祝排灯节。
Maharashtra – Ganesh Chaturthi
马哈拉施特拉邦 – 象神节
Ganesh Chaturthi, the most important festival of Maharashtra falls in months of August – September. Ganesh images are kept in houses as a divine guest for five to ten days by people. The image is then taken out ceremoniously and immersed in the river, sea or well. It is called the Visarjan. Modak is a special cuisine for Ganesh Chaturthi celebrations.
8月至9月的两个月内,马哈拉施特拉邦最重要的节日象神节将会降临。人们在房屋里摆放象神的图像作为神圣的客人,持续五到十天。 然后图像被隆重地取出,并浸入河流,大海或井中。它被称为Visarjan。Modak是象神节庆祝活动的特别美食。
Huge Ganesh idols are worshipped at nicely decorated pandals for 8 to 10 days. Slogans of Ganpathi Bappa Morya reverberate as the idols are taken out in huge processions during the day of immersion. Cultural activities of singing, dancing, and theater, and free medical and blood donation camps are held during the festival.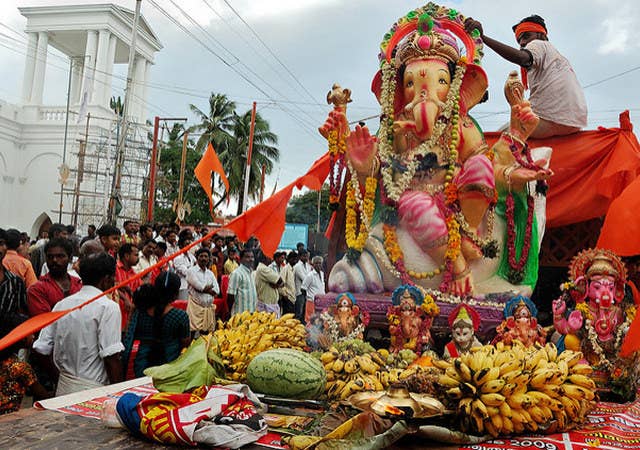 巨大的象神像在装饰精美的棚舍中摆放8至10天,供人们侍奉。 象神像在浸入日那天从棚舍中取出,Ganpai Bappa Morya的口号在天空中回荡。诸如歌舞,戏剧了的文化活动,也会在节日期间进行,同时也有免费的医疗和献血营。
Manipur – Yaoshang
曼尼普尔邦 – Yaoshang
One of the premier festivals of Manipur, Yaoshang is celebrated for five days and commences from the full moon day of Phalguna (February/March). The main highlight of the festival is the Thabal Chongba dance, a Manipuri folk dance where boys and girls form a circle and hold hands and sing and dance.
作为曼尼普尔邦的重要节日之一,Yaoshang节庆祝五天,从Phalguna的满月日开始(二月/三月)。该节日的主要亮点是Thabal Chongba舞蹈,曼尼普尔邦民间舞蹈,男孩和女孩围成一圈,手牵着手唱歌跳舞。
Donations are collected from house to house and the money collected is spent on parties and merry-making.So if you are planning a trip to Manipur in the month of February, don't forget to be a part of the Yaoshang festival and carry home the memories you will cherish all your lives.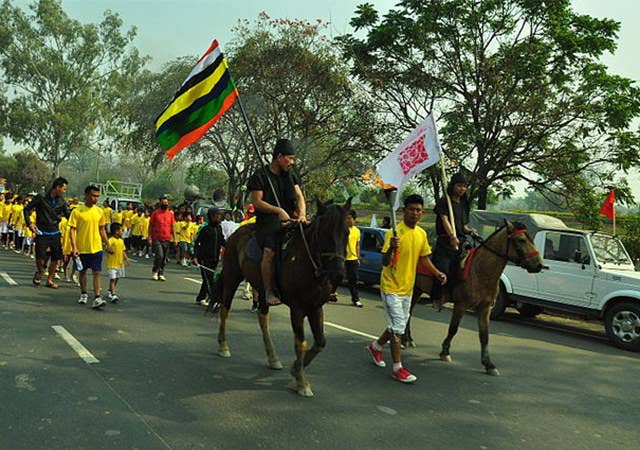 捐款是从挨家挨户收集的,收集的钱用于派对和宴会。所以如果你计划在2月份去曼尼普尔,不要忘记参加Yaoshang节,这将会是你会珍惜一生的回忆。
Meghalaya – Nongkrem Dance Festival
梅加拉亚邦 – Nongkrem舞蹈节
The Nongkrem dance festival of the hill state of Meghalaya is a five days long religious festival devoted to appeasing the Goddess Ka Blei Synshar for a rich bumper harvest and prosperity of the people.
梅加拉亚邦的Nongkrem舞蹈节是一个为期五天的宗教节日,旨在安抚女神Ka Blei Synshar,以求得人们的丰收和繁荣。
Dances are performed by unmarried men & women dressed in exotic costumes. The men's dancing is naturally more vigorous and energetic. They hold a sword in their right hand and usually a white Yak hair whisk in their left hand, keeping time to the changing beats of drums and playing of the tangmuri or pipes. 舞蹈由未婚男女穿着异国情调的服装进行。男人的舞蹈自然更有活力和力量。 他们右手拿着一把剑,通常他们的左手中会握有一缕牦牛毛,用来掌握鼓节奏以及风笛的演奏。
Mizoram – ChapcharKut Festival
米佐拉姆 – ChapcharKut节
Mizoram's biggest festival, Chapchar Kut marks the clearing and readying of hill slopes for jhum or shifting cultivation. It is celebrated with gaiety and fervor by young & old.
米佐拉姆最大的节日Chapchar Kut标志着山坡的清理和准备工作或轮班耕种。 它被年轻人和老年人欢乐和热情地庆祝。
On this day people dressed in colorful costumes and distinctive head gears and jewelry, assemble and perform various folk dances, singing traditional songs accompanied by the beating of drums, gongs, and cymbals. The energetic Bamboo dance&other main dances like Khuallam, Chheihlam, Chai, and Sarlamkai are performed as part of community festivities.
在这一天,人们穿着五颜六色的服装和独特的头饰和珠宝,伴着打鼓,锣和铙的节奏,编导和演出各种民间舞蹈,唱着的传统歌曲。充满活力的竹舞和其他主要舞蹈,如Khuallam,Chheihlam,Chai和Sarlamkai都是社区庆祝活动的一部分。
Exhibition and sale of indigenous Handloom and Handicraft products and flower show, food festival, musical competition and different traditional games are also organized during the Chapchar Kut festival
在Chapchar Kut节日期间,还会举办手工艺产品的展览和销售以及花展,美食节,音乐比赛和不同的传统游戏。
Nagaland – Hornbill Festival
那加兰邦 – 犀鸟节日
The week-long Hornbill Festival of Nagaland is one of the biggest cultural extravaganzas in the North East& held every year from Dec1-10. It is a festival to revive, protect, sustain, and promote the richness of the Naga heritage and traditions.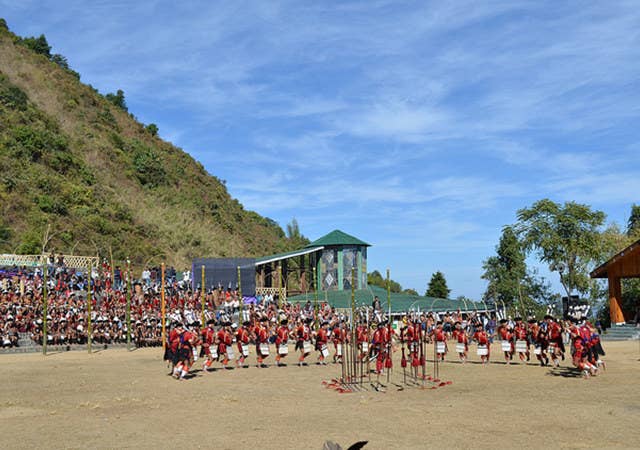 那加兰邦为期一周的犀鸟节是东南部最大的文化盛会之一,每年从12月1日至10日举行。这是一个复兴,保护,维持和促进纳迦遗产和丰富传统的节日。
All the Naga tribes get together for a week-long celebration of their cultural and traditional plight and showcase their age-old traditions.
所有的纳加部落聚集在一起,为他们的文化和传统的困境进行为期一周的庆祝,并展示他们古老的传统。
Odisha (Orissa) – Raja Parba
奥里萨(奥里萨邦) – 拉贾帕尔巴
Raja Parba is the living cultural heritage of Odisha and the manifestation of the agricultural way of life. A festival of harvest held for three days in June, the first day is called Pahili Raja, the second day is the Raja Sankranti, and the third day is Basi Raja. 拉贾帕尔巴是奥里萨邦的现存的的文化遗产,也是农业生活方式的体现。这是在六月举行为期三天的丰收节,第一天叫帕希利拉贾,第二天是拉加桑克兰蒂,第三天是巴西拉贾。
A joyous atmosphere pervades as the young men of the village play local games like Kabaddi. Competitions are also held between different groups of the village. A festival of joy you can say!
当村里的年轻人玩Kabaddi等本地游戏时,欢乐气氛弥漫。村庄的不同群体之间也进行比赛。 这的确是一个欢乐的节日!
Punjab – Lohri
旁遮普 – 洛里
Lohri is a popular festival, celebrated by Punjabi particularly of Hindu and Sikh faith on the 13th of January a day before Makar Sankranti.
洛里是一个受欢迎的节日。在马卡尔桑克兰蒂前一天,即1月13日,旁遮普人尤其是印度教和锡克教信仰者们庆祝该节日。 A week before Lohri, children begin gathering firewood and huge fires are burning on Lohri night. In the morning, children go from door to door singing and demanding the Lohri 'loot' in the form of money and eatables. Lohri is essentially a festival dedicated to the Sun god and to share the warmth with your family and loved ones.
在洛里前一个星期,孩子们开始采集柴火,并且在Lohri夜晚点燃。早上,孩子们挨家挨户地唱歌,换取货币和食物的形式作为洛里的"战利品"。洛里本质上是一个献给太阳神的节日,并与你的家人和亲人分享温暖。
Rajasthan – Gangaur Festival
拉贾斯坦邦 – Gangaur节日
The Gangaur festival in Rajasthan is a colorful affair and offers a wonderful opportunity for tourists to enjoy cultural festivity.
拉贾斯坦邦的Gangaur艺术节是一个多姿多彩的活动,为游客提供了一个享受文化节日的绝佳机会。
It falls a fortnight after Holi&is celebrated for 18 days in honor of Goddess Parvati mostly by the womenfolk of Rajasthan. Offerings are made to the Goddess Parvati& the festival is considered an auspicious occasion for young people to choose their life partners. 在Holi&节日之后的第14天开始为期18天的Gangaur庆祝,主要由拉贾斯坦邦的女性向女神帕尔瓦蒂致敬。奉献给女神帕尔瓦蒂和节日被认为是年轻人选择他们的生活伴侣的吉祥场合。
During the festival, images of Gauri (the other name of Goddess Paravati) and Shiva are taken out in colorful processions. The whole event comes to an end with the display of wonderful fireworks.
在节日期间,Gauri(女神帕拉瓦蒂的另一个名字)和湿婆的图像在五颜六色的游行中被带出。整个活动以精彩的焰火表演结束。
Sikkim – Saga Dawa
锡金 – 佐贺达瓦
The magnificent carnival of Sikkim, Saga Dawa is famous for masked dances and the festival exhibits in rare and elegant colors add richness and diversity. On the day of the Saga Dawa the people of Sikkim, especially the Mahayana Buddhists gather in temples and pay due honor to the Lord.
锡金的盛大嘉年华,佐贺达瓦以蒙面舞蹈以及以稀有高雅的色彩增添丰富多样的节日展品而著称。 在佐贺达瓦的那一天,锡金人民,特别是大乘佛教徒聚集在寺庙里,向主表示敬意。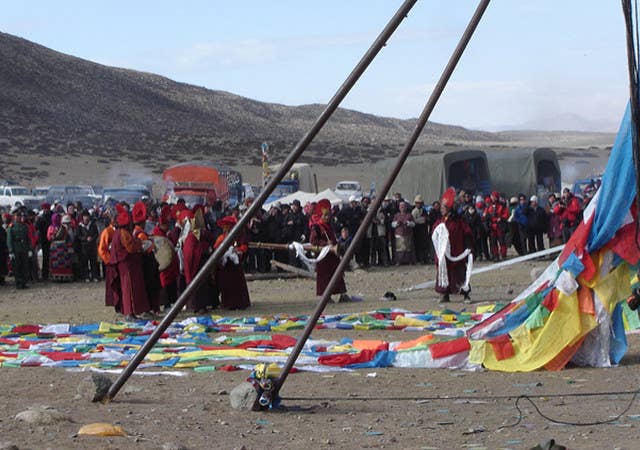 They light up lamps and the ceremony is followed by a grand pageant which consists of Monks who move to the chants of holy scriptures and hymns in the procession
他们在仪式上点亮灯,之后是一场盛大的由僧侣组成游行,其他们在游行中诵念圣经和赞美诗的圣歌。
Tamil Nadu – Pongal
泰米尔纳德邦 – 庞加尔
Pongal is a four-day-long harvest festival of Tamil Nadu which falls in the month of January-February.
庞加尔是泰米尔纳德邦的一个为期四天的丰收节,一般在一月至二月。
The first day of Pongal – The Bhogi festival is celebrated with the ritual of Bhogi Mantalu when useless items of the household are tossed into a bonfire traditionally made of cow dung cakes and wood. On the second day – Thai Pongal, rice and milk are boiled together in an earthen pot as an offering to the sun god.
庞加尔的第一天 – Bhogi节日的庆祝活动是Bhogi Mantalu仪式,把无用的家用物品被扔进传统上由牛粪和木头制成的篝火中。 第二天 – 泰国的庞加尔,把米饭和牛奶在陶锅里一起煮,作为献给太阳神的食物。 Sugarcane, coconuts and bananas are also offered. The third day – Mattu Pongal is dedicated to cows. They are adorned with bells, sheaves of corn, garlandsand worshipped. The houses look magnificent with Kolam designs (traditional floral designs made with rice, colored powders, and flower petals).
同时供奉的还有甘蔗,椰子和香蕉。第三天 – 马图庞加尔,奉献给奶牛。人们用铃铛,玉米,花环来装饰这些奶牛,并供奉他们。用Kolam设计(用米,彩色粉末和花瓣制成的传统花卉图案)装饰的房屋看起来华丽宏伟。
Telangana – Bonalu
特兰伽纳 – 奉食节
Bonalu is celebrated in Telangana and the word Bonalu came from "Bhojanalu" which is offered to the goddess during festival time. It is believed that the Goddess comes back to her maternal home on this day. So people come to see her and bring offerings of food (Bonalu).
特兰伽纳庆祝奉食节,奉食节这个词来自"Bhojanalu",是指在节日期间供奉给女神的食品。据信女神在这一天回到她的母亲家中。所以人们来看她并带来食物(奉食)。 Women prepare Bonam in a pot and decorate with small neem branches, turmeric, kumkum and a Lamp on the top of it. Women put the pots on their heads and take it to Goddess temple, led by drummers and dancing men.
女性将供奉的食物放在小壶当中,并用小楝树枝,姜黄,kumkum和它顶部的灯装饰。妇女把盆放在头上,跟随鼓手和跳舞男人的带领去女神庙。
Tripura – Kharchi Puja
特里普拉 – 卡尔基普亚
Kharchi puja is the worship of the fourteen gods of Tripura and is celebrated in the month of July-August. On the day of puja, the fourteen deities are carried to river Saidra, bathed in the holy water and brought back to the temple.
卡尔基普亚是特里普拉十四神的崇拜,在七月至八月期间庆祝。 在法会的那一天,十四位天神被带到赛义德河,沐浴在圣水中,然后被带回圣殿。
People offer different types so Prasad like a goat, buffalo, fouls, sweets etc. Nowadays many cultural programs are performed in the night and a large fair is also organized on the occasion.
人们提供不同的类型的贡品,比如山羊,水牛,糖果等。如今许多文化节目在夜间进行,并且还举办大型博览会。
Uttar Pradesh – Navaratri
北方邦 – 九夜节
Navratri is one of the holiest Hindu festivals is celebrated with much pomp and grandeur in Uttar Pradesh. Navratri is celebrated for nine nights during which people worship Goddess Durga and her nine forms to seek Her blessings.
九夜节是最神圣的印度教节日之一,在北方邦举行盛大的庆典。 九夜节庆祝仪式持续九晚,人们供奉女神杜尔加和她的九种形式,以寻求她的祝福。 Special pujas of Devi are also held by setting up the images/idols of Mother Durga in beautifully decorated pandals accompanied by cultural songs, dances, and dramas. These idols are then immersed in rivers at the end of the festival.
献给女神的特殊礼拜仪式,是通过在装饰精美的棚舍中设置杜尔加母亲的图像/神像,并伴随着文化歌曲,舞蹈和电视剧而举行。然后这些神像在节日结束时被浸入在河流中。
Uttarakhand – Ganga Dusshera
北阿坎德邦 – Ganga Dusshera
In the month of June, Ganga Dussehra is celebrated at major ghats of Uttarakhand. This festival is a day of devotion and faith. People in large numbers bathe in the Ganga to get purified of sins and at night devotees start offering leaf boats with flames, sweets, and flowers to the river.
在六月份,Ganga Dusshera在北阿坎德邦的主要高止山脉庆祝。 这个节日是关于献身和信仰的日子。许多人们在恒河洗澡,以净化自己的罪恶,到了晚上,信徒们开始向河流供奉带有火焰,糖果和鲜花的叶船。 Big fairs are also organized in various parts of India like Varanasi, Haridwar, Mathura, and Allahabad which are the major attractions during this time.
大型博览会也在印度各地举办,如瓦拉纳西,哈里瓦,马图拉和阿拉哈巴德,这些都是这个时期的主要景点。
West Bengal – Durga Puja
西孟加拉邦 – 杜尔加普亚
Durga Puja also referred to as Durgotsava in West Bengal and celebrated with much gaiety and pomp here. The festival is commemorated by worshipping Goddess Durga. It is one of the biggest festivals in Bengal and is celebrated on a mass scale with Puja Pandals erected on almost every corner. Community Pujas are also organized in each locality.
杜尔加普亚在西孟加拉邦也被称为Durgotsava,并且在这里举行盛大的庆祝活动。 这个节日通过崇拜供奉女神杜尔迦而庆祝。这是孟加拉最大的节日庆典之一,并且几乎在每个角落竖起了礼拜棚舍。社区礼拜活动也在各地组织。
On the last day, the idols are taken in decorative processions to be immersed in the river or the pond. Apart from traditional rituals, many cultural activities like song and dance competitions, games and fetes are organized during the festival.
在节日最后一天,这些神像以装饰游行被浸入河中或池塘中。除了传统的仪式外,节日期间还举办了许多文化活动,如歌舞比赛,游戏和节日。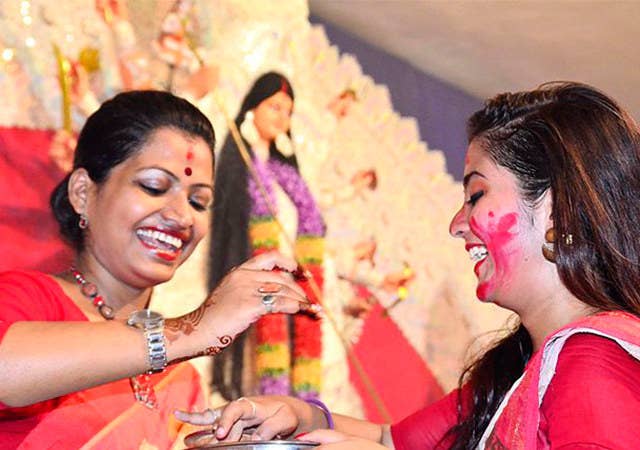 India is a land of festivals where people of all religions coexist in harmony. The festivals are a true manifestation of its culture and traditions. Now that you have been through the festivals which define the 29 states of India it is up to you to celebrate them with all pomp and splendor.
印度是一个节日之地,各个宗教的人们都和睦相处。节日是其文化和传统的真实体现。 现在您已经了解了印度29个州最具特色的节日,所有的盛况和辉煌都将由您来决定。
We would love to know your favorite festivals in India! Share away your thoughts in the comments!!
我们很乐意了解您最喜爱的印度节日! 在评论中分享您的想法吧!
Courtesy: Buzzfeed